Kate Arnold
"I have been coached by JM Coaching for just over a year and I can honestly say it's made a world of difference to my running. When I joined I spoke with Jonny about what my goals were, and he worked out a plan to help me get there. A year on and I have not only met my goals – I have smashed them. The sessions always offer something a bit different and I have seen a huge reduction in injuries and little niggles. On race day, I feel prepared and fresh and am able to run to the best of my ability. If I ever have a question, Jonny is quick to reply and his advice is always on the mark and fuss free so I never feel overwhelmed with jargon. Having a training plan has given me the structure, direction and self confidence that I needed. I am excited to see what the next year brings!"
GLENN LACEY
"I decided to get an online coach as I was forever getting injured and didn't have great structure in my running. I thought maybe I'd just get set a plan to follow and that was it with online coaching. However Jonny goes above and beyond. Whenever you ask questions about your plan, training etc he will always respond in a timely manner and always trys to explain why you are doing a session and what you'll gain from it. He puts as much effort into his coaching as he does his own exceptional running career and is always looking to help people. I have only been working with Jonny 8 months and have gone from strength to strength. He has got me running sustainably rather than going from one injury to another. I would recommend Jm coaching to anyone thinking about running coaching top bloke and a great coach. Jonny even checks in with you before big races to see how you are doing and see your plans for the race etc and to reassure you.
Sophie has been keeping all of us motivated by putting on a core and strength session each week and Jonny has been putting on virtual events and going through rolling techniques for recovery. Jm coaching is really trying to give it a group feeling and encouraging everyone to keep motivated even through the uncertainty of no races which is a measure of how much they put into their coached athletes and general running community. 
My running has improved massively in a short period of time and as Jonny keeps saying you just need to trust the process and the results will come. I am looking forward to the future with JM coaching and what I can achieve through Johnny's guidance. 
5k – 23.34 > 19.56
10k – 47.08 > 40.32
Half Marathon – 1.49 > 1.32″
SIMON BRUCE
"I've been working with Jonny a little under a year and have seen huge improvements. I've smashed every single PB from 5k to the marathon just by following the training he sends me. Everything is tracked through Training Peaks so I know which session I'm doing each day and is good to know that each one has a purpose towards the bigger goal!"
LYNZIE FLEMING
"I have trained with JM coaching (Jonny) for a number of years. I initially joined Jonny to help with my training going into Berlin Marathon (which I got a massive PB!). I wanted a coach who not only help me to improve but someone who I could learn from. I receive my training through Training Peaks, where the sessions are specifically tailored to me and are geared towards my goals. Jonny is amazing at getting the training 'just right' and getting the best out of you – this isn't by luck, it is through years of experience and knowledge, which he passes on to his coached athletes.
In the last 18 months, while dealing with a complicated injury Jonny has helped me to maintain a level of fitness, this was at a time when running wasn't possible. He put me in contact with an excellent physio, who he knew would be able to help me get back up and running. During this period of rehabilitation/physio I was supported, and training structured to ensure I was maintaining fitness levels but allowing my body to adapt and get stronger. This was above and beyond what I expected in a coach but goes to show that Jonny is more than an online coach – he genuinely wants to get the best out of his athletes. In the last year I have become a stronger runner and have made massive improvements in my race times. I absolutely love my training which is fun and challenges me. I have grown in confidence, gained friends, a running 'family' and now run for a wonderful club. I can't wait to see what we can achieve this year and the years that follow. If you are looking for a running coach who goes the extra mile JM Coaching is second to none."
Head over to Google to read more 5* reviews from some of the athletes I've worked with over the years.
SIMON ENGLISH
"I have been working with Jonny for a couple of years now and coming to JM Coaching is one of the best things I have done as a runner. Despite his own busy commitments as an elite athlete, Jonny is very accessible for help and advice and the resources available on the web site to members are excellent. The proof is in the pudding and in my time at JM Coaching, I have PB'd at Marathon and Half Marathon, and 15 Mile (we haven't attached other distances yet !). I love the training that I do under Jonny's direction and guidance. He is now someone I am proud to call a friend. I would have no hesitation in recommending JM Coaching to any runner serious about wanting to improve and fulfil their potential."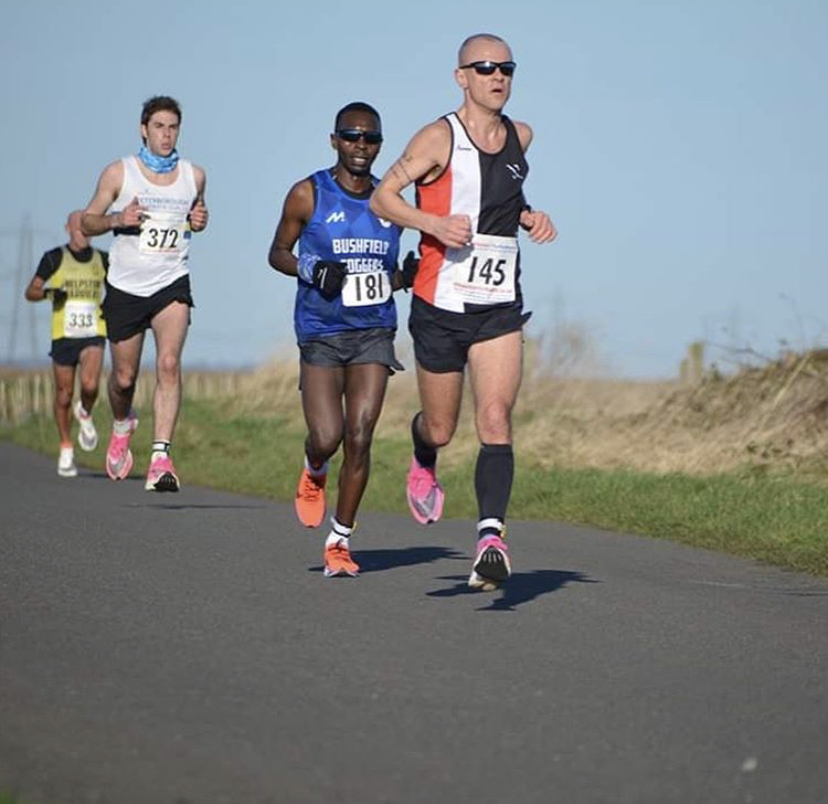 GRAHAM JENVEY
"I was introduced to JM run coaching through a friend and was instantly impressed by the calibre of athlete; I mean 'wow' what a résumé. It soon became clear Jonny was far more than an Elite athlete, he's incredibly knowledgeable coach implementing the most up-to-date coaching principles, but as importantly i was struck by the effort he makes to create an athlete coach relationship, by doing that I feel he really understand how I tick and as a result of 9 months of training under his expert guidance I am fitter than I have ever been"
PANASHI DEVCHAND
"Jonny is just brilliant! His sessions are easy to follow, keep things interesting and are individualised to meet your goals and lifestyle. Jonny has created a team of supportive, hard working and above all, HAPPY runners – a sense of community that gets you out the door, helps you enjoy the process and simply focus on getting better each day! The PBs are just the icing on the cake!"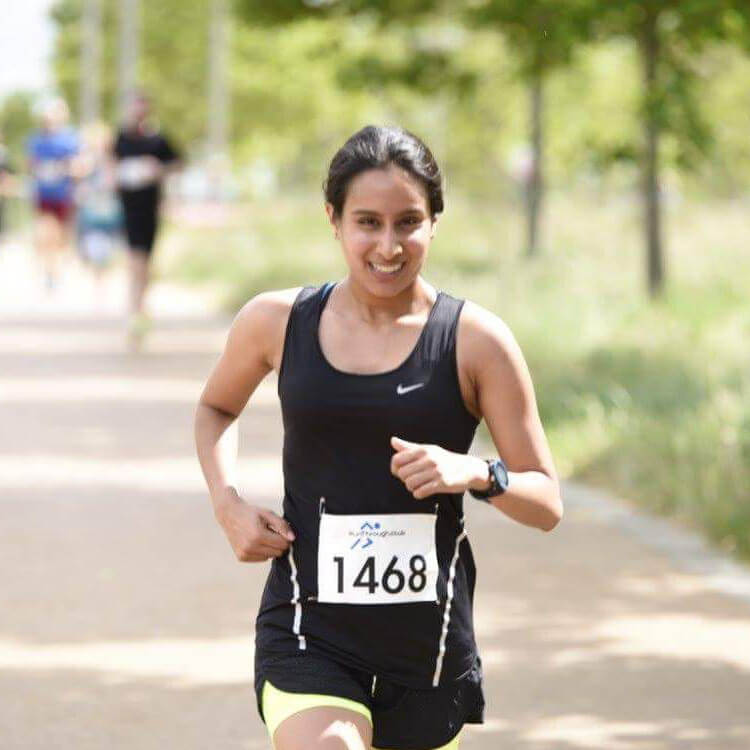 LEWIS DICKENS
"Having completed my first marathon in October 2016, I was eager to get another booked up and determined to beat my time of 4:14. After seeing good reviews of jmcoaching, I took the plunge and got in touch with Jonny. Well what a decision that was… in just under 6 months he has helped me knock 30 mins off my marathon time, and I believe he's got me running the best I ever have. His sessions he sets are simple but incredibly effective. If you're looking for a coach, I couldn't recommend anyone better 👍🏻"
SALLIE HOLT
"I began being coached by Jonny in Spring 2014. After a shaky start; where I didn't listen and Jonny very VERY patiently continued to set the sessions, I am well on my way to achieving the goals we set back then. These goals were a sub 20 5k, sub 40 10k, sub 1:30 half, but most of all I wanted a qualifying time for the championship race at London Marathon. I needed a sub 3:15. Jonny and I will sit down at the beginning of a training block and decide what we're going to aim for.
We put in a few races along the way with a main target race at the end taking into account holidays and family commitments …. and any parties. My training comes through from Jonny via Training Peaks, usually on a Sunday and is adapted to my week. I have 2 children with their own hobbies and a running husband, plus I work 4 days a week – so my training has to be planned to perfection. This is why being in regular contact with Jonny is so useful because, if needs be we can swap stuff about. This year Jonny and I succeeded in achieving my main aim of a qualifying place in the championship competition at London. I PB'd by over 2 minutes in this years London Marathon securing my place. There's no way I could have achieved this without Jonny's guidance and expertise….. and of course patience!! Jonny's coaching comes with my absolute highest recommendation! "
10k – 43:29 > 40:33
HM – 96:08 > 91:45
MARA – 3:27 > 3:12
CAMILLE ARYEETEY
"I was introduced to Jonny from JM Coaching back in 2014 as I was stuck in my training and needed a more rigid training program to get me faster and stronger. I was initially really nervous to have a coach look at my training and critique what I had already been doing. Never ever running with a club or group I definitely felt anxious, I definitely didn't need to be as straight away from meeting Jonny he made me feel at ease. Jonny and I went through what I'd been doing with my running and what my goals where and also realistically what I was able to achieve. I think most importantly he asked me about family life, my work and me. My diet was looked at and also my sleep patterns, which all obviously play an important part when you're training with a coach, as they need to tailor make your training plans."
"Straight away I started receiving my weekly plans off Jonny these highlighted what I had to do in the forthcoming week… hill sessions, rest days strength and conditioning speed sessions and long runs all with an end goal. At that time it was the Boston Marathon. What I loved about Jonny was he got to know me the good the bad and unfortunately the damn ugly. As most runners know your coach has to dig you out of the dark holes you sometimes find yourself in when racing and sometimes your sessions don't go the way you wanted. Jonny definitely had his work cut out with me that's for sure. But his support in those times went above and beyond a coach."
"I literally straightaway got a PB on every race I entered since training with JM Coaching. Jonny is very good at taking you out of your comfort zone mine being the shorter faster runs, which helped me in the longer runs. The following year I started with Jonny I took 3 minutes off my marathon time but more importantly I felt stronger and I had a clear outlined training programme that worked around my rather busy life and me. "
"I would without a doubt highly recommend JM coaching the knowledge and support Jonny has given me has been first rate. I literally feel my Training Peaks where my training comes to me is like my bible for my training. I can upload my training straight away and refer back if needed and see what progress has been made. Feedback is key with a coach and I feel that Jonny goes above and beyond to push you to your potential. I've had some bumpy times in my training and Jonny has definitely more been than just a coach to me."
10k – 42:49 > 42:02
HM – 99:35 > 91:48
MARA – 3:29 > 3:21

SOPHIE WHITESIDE
Being coached by your partner can sometimes bring up difficult challenges, but one Jonny has managed really well since he started coaching me a few years ago.
Supporting him with his own running career we made the decision to move over to Manchester to join the New Balance team, which meant I have been traveling to and from Manchester making it difficult to continue training with my former coach and group in Liverpool.
Jonny always fits training in and around my work commitments making it really easy to check TrainingPeaks on the go. I get lots of motivation from ticking off the green boxes.
I am extremely proud of what Jonny has achieved on the track, but also admire his dedication to helping others also achieve their goals. I can see how much he enjoys working with a wide range of athletes from club runners to new runners just starting out and he's also done a great job in creating a community of runners, which I can only see growing via this website. We share stories and ideas on a group Whats App thread and even arrange to meet for runs. Most of all we love sharing good running bargains, which is definitely a good thing!
Of course I am biased but despite that I really do think he goes above and beyond as a coach and is always willing to listen to the athlete and not just apply elite level training to everyone but adapt it and alter it no matter how fast you are.
MICHAEL DUNNE
"Working with Jonny has seen me go through a memorable journey – from getting to know the coach and how he works to smashing out PB's. Jonny is as dedicated to his athletes as he is to his own journey as a professional athlete – exceptional. You don't have to be a 4 minute miler to take on a coach you just need to be dedicated to your running as he will also help you fit in your running around your lifestyle and commitments, it's then all about trusting the process."
"I would highly recommend getting in touch with Jonny to discuss your fantastic future as a runner."
5k – 18:12 > 15:59
10k – 40:00 > 34:11
HM – 91:17 > 76:38